Engage – LIVE SHOW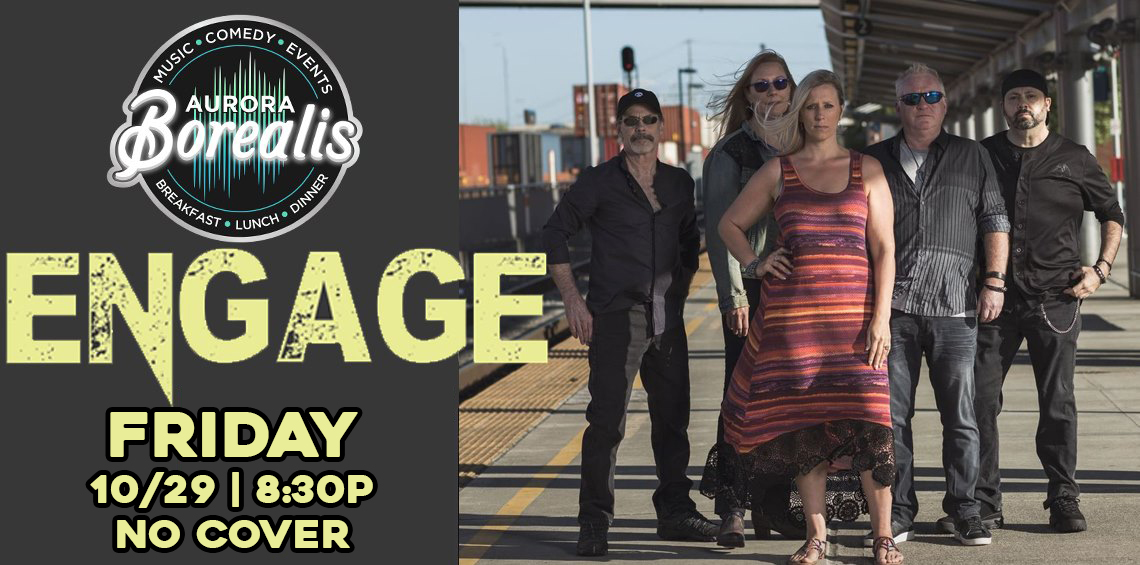 Engage – Pacific Northwest Premier Cover Band
This extraordinary group of talented musicians will make your event truly memorable! We are available for weddings, corporate events, and private parties, and you can also catch Engage around town at local festivals, and other community events.
FREE SHOW! There is no cover charge therefore Entertainment Gratuities are appreciated!
For nearly two decades Music has morphed Janie Kelley into someone she barely recognizes to this day. Music has been a safe and positive place for her to settle into her emotions and come out the other side a more whole and healed person.
Starting out at open mics and learning worship songs from church, she then grew to performing in cover bands learning music from all decades, while continuing to write her own music and record in the studio. For her, music is everything. It tells a story, and it conveys real emotion that gets you in touch with a part of yourself. Ultimately, it takes you on a journey through your heart and spirit.
'Engage' is Janie's latest musical adventure. Singing some of the best songs ever written and working with some of the best local musical talent, 'Engage' will leave you wanting to dance or bop your head all night. They weave in and out of Pop/Rock hits that satisfy the soul with their rich and unique sound!
At age 10 Ray had his first guitar lesson. Well-intentioned parents soon sent him to the Philadelphia Musical Academy to show them what an electric guitar sounded like. That didn't last long and soon his first band was formed. Many bands and original projects followed. The guitar was always there, but rocket scientist work was paying the bills and it brought him to Seattle. He began working with local artists, doing studio tracks, live gigs and home recording.
In 2016 Ray was playing bass in Mechanical Heart with Janie. When that ended he kept looking for a way to lure Janie into another project. In 2020 Dave, Cam and Ray started looking for a female singer. Janie took the bait! Engage is the musical home he was looking for.
Dave Basen started his musical journey through the mean streets of Southern California. Holding down the bottom end, he is a bassist by choice, following in the footsteps of the great mentors of the instrument, has extensive tour, studio & and live experience, has been ripping through the music world as one of the top talents of this genre. Won many battle of the band competitions and has played in some of the biggest rock cover bands from California to Seattle. Don't miss this guys playing, he's one of the greats!
Retiring the dented pots and pans at an early age, Cam moved up to the drums in the 3rd grade and hasn't looked back.  Even a short-lived foray with the trumpet couldn't keep him away from his first set which started his musical journey towards the land of Rock and Roll.  Surrounded by a family of musicians, there was always someone playing the piano, clarinet, flute, trumpet, or a record on the turntable.
Cam's first band was an unnamed power trio that played one song, Alley Cat.  His more current musical adventures over the past few years include Hall Pass and Sonic Therapy.