False Sense of Security – Virtual Concert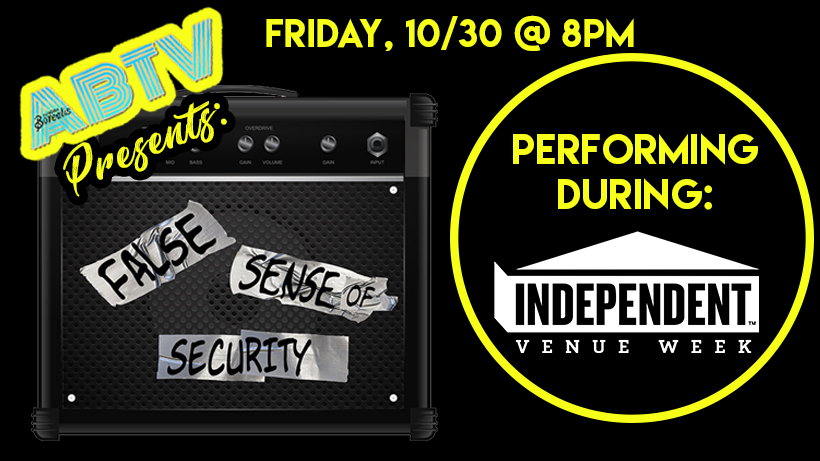 Watch it here: STAY TUNED FOR LINK!
Date: Friday, October 30th, 2020
Time: 8:00pm
Donations: http://Paypal.me/Borealisonaurora
We're truly honored to have False Sense of Security as part of @IVWUS (Independent Venue Week), helping to #SaveOurStages and celebrate the spirit of independence at Aurora Borealis!
Join us for another installment to the ABTV catalog with False Sense of Security! Please consider donating to support the band and venue staff to keep live music and the arts alive in Seattle and Shoreline!
Formed in 2017, these Seattle area musicians joined together to start playing some of the best rock & roll songs throughout the decades. False Sense of Security is made up of people with normal jobs and busy lives. All the members share a love for music and similar tastes in genres. When it's time to perform live, their goal is to put on the best show possible so their audience is having as much fun as they are. What fuels FSS to put on a great show? The audience! The harder they rock, the more energized the crowd gets. It's the rockin' gift, that keeps on giving.
Here's a sampling of some of the bands FSS covers during their sets:
Tom Petty, The Eagles, The Rolling Stones, ZZ Top, Lady Gaga, Van Morrison, CCR, Joe Cocker, John Mellencamp, Stray Cats, AC/DC, Billy Idol, Jimmy Eat World, Fleetwood Mac, The Romantics, Bon Jovi, Stone Temple Pilots, George Thorogood, Foo Fighters, and more!