An Evening with Dave Barduhn & Mach One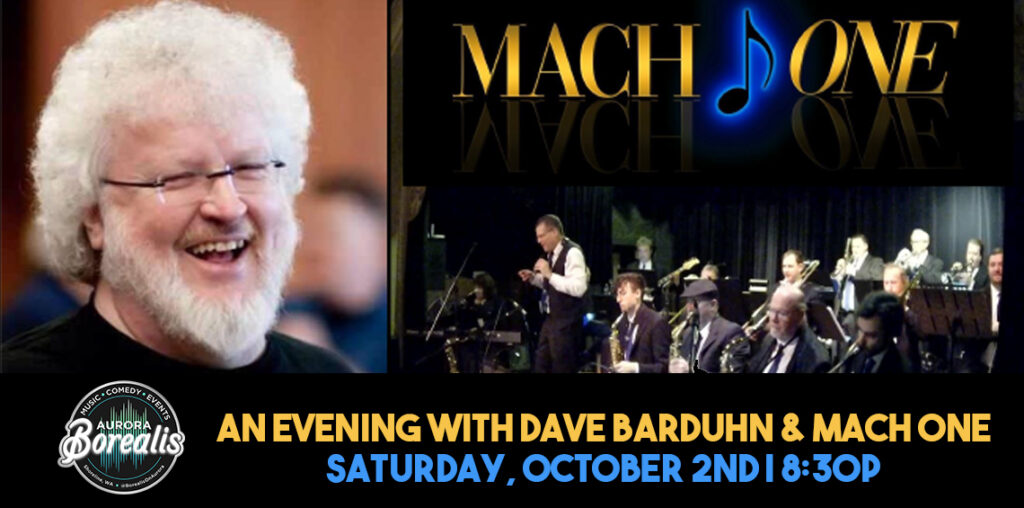 Jazz master Dave Barduhn joins Mach One for an unforgettable night of big band entertainment. Dave will be featured on piano and will also be leading the band in playing several of his great arrangements.
Make your reservations now! Come early to enjoy dinner and then stay for the fun!
MachOne – one band with so many facets. From its roots in big band jazz and swing to contemporary pop and dance favorites, MachOne can tailor our music to be perfect for your event or venue. The size of the group can also be customized to fit your venue and budget from jazz combo to big band.
Our full 17-piece line-up features 13 horns and 4-piece rhythm section. Our singers, Tony Aguirre and Charlotte Carruthers, are also members of the band (tenor sax and keyboards, respectively). Their delightful duets, dynamic vocals and high-energy stage presence keep listeners and dancers entertained all night long.
For over 20 years, MachOne has performed at public and private events all over the Puget Sound area. From dinner music to concert/festival stages and park lawns, Oktoberfests to gala New Year's Eve soirees and from swing dances to disco, MachOne can provide the best in musical entertainment just right for you.
FREE SHOW! There is no cover charge therefore Entertainment Gratuities are appreciated!