Nothing's Shocking & Past Curfew – DOUBLE FEATURE LIVE SHOW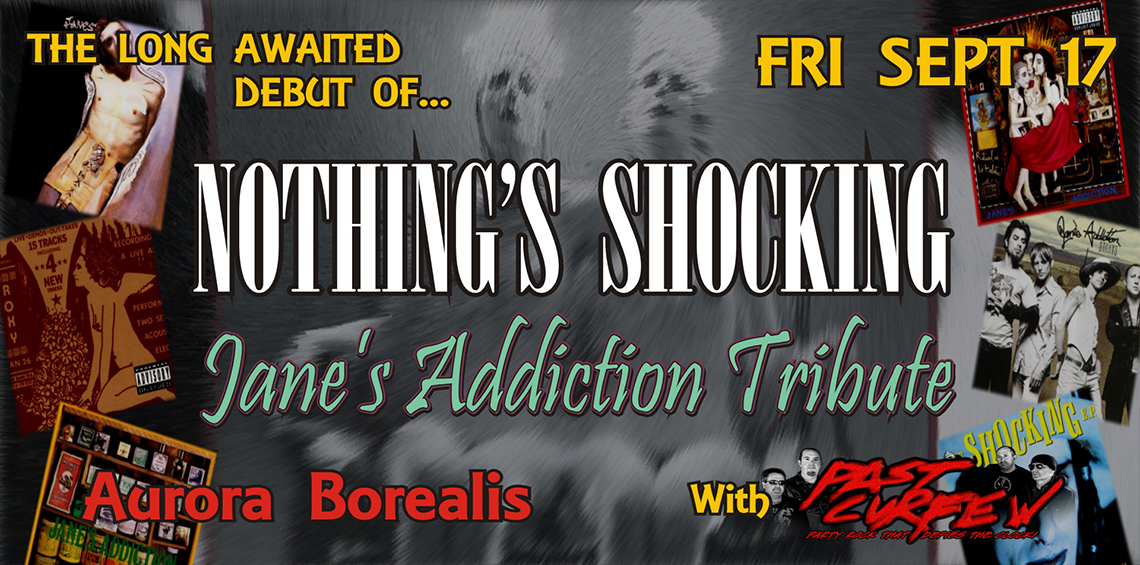 FREE SHOW! There is no cover charge therefore Entertainment Gratuities are appreciated!
The highly anticipated debut of Nothing's Shocking – Jane's Addiction Tribute is finally going to happen, folks!! It took over a year, but the wait will have been worth it. Previously known as Idiots Rule, the group has added a new band member and evolved into a full blown tribute act. Now showcasing the look and sound of an album quality, authentic early era Jane's Addiction concert experience, you won't want to miss this show!
Opening the night, our great friends in Past Curfew will be blasting out a set of awesome 90's Alt Rock hits!
Come early for dinner! And don't forget the drink specials!
Music starts at 8:30pm sharp!!
There is no cover charge at Aurora Borealis, therefore a suggested $20 Entertainment Gratuity per person is greatly appreciated, as the bands are NOT compensated otherwise! Tip jars will also be available. This is a trial run for us, so let's knock it out of the park for the bands and venue alike!
Thank you so much for your support!
Don't forget to sign up on our email list for show and band updates: noshocking1988@gmail.com
This show will be Ocean Size!! See you there!!