Rubbish & Mysterious Ways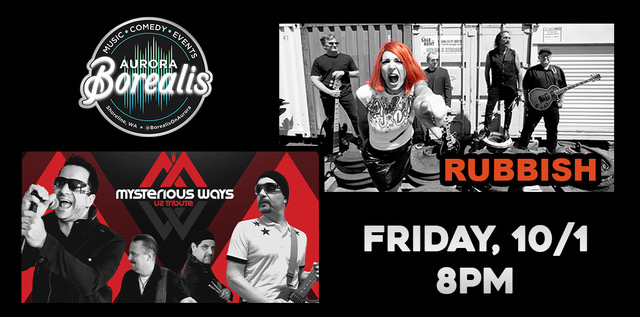 Double feature with Rubbish – honoring the music of Garbage and Mysterious Ways the NW premier U2 Tribute.
With all the power vocals of Shirley Manson and the techno grunge sound of the 90s and early Aughts, Rubbish honors the music of Scottish-American rock sensation Garbage. As Seattle's premiere Garbage tribute, Rubbish brings a high-energy, hard-rocking show filled with all the hits you remember and new favorites you won't forget. You will be happy … and not only when it rains.
Mysterious Ways – capturing the essence of the legendary band U2 – is comprised of four talented musicians from the Seattle area. Through a dynamic and energetic performance, Mysterious Ways enthralls and delights as they take you on a musical journey through hits and fan favorites. Featuring Patrick Boudreaux on vocals, "The Eirik" on guitar, Greg McGwire on bass, and Rico Ybarra on drums, Mysterious Ways is a top-tier tribute band that sonically and visually celebrates the music of U2.
FREE SHOW! There is no cover charge therefore Entertainment Gratuities are appreciated!
http://www.rubbishtheband.com