Stacy Jones Band LIVE SHOW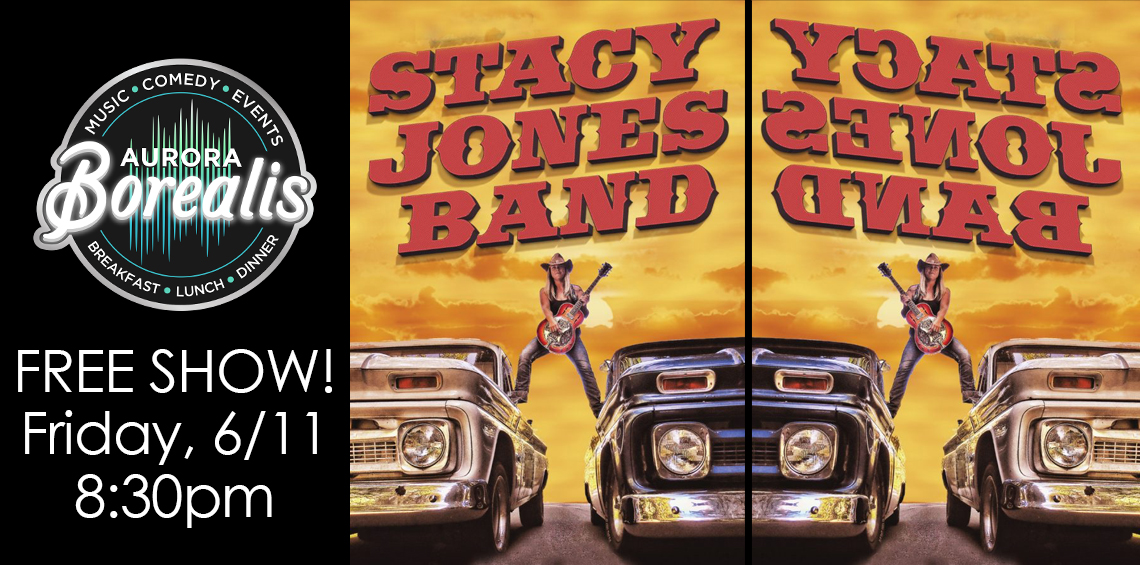 FREE SHOW! There is no cover charge therefore Entertainment Gratuities are appreciated! Seating is limited so get here early!
Stacy Jones is continually nominated for "Best of the Blues" awards in songwriting, performance, harmonica, guitar and winning the 2020, 2019 and  2018 "Best Band" award plus nine other "Best of the Blues Awards from the Washington Blues Society including Best Female Vocalist, Blues harmonica, Blues songwriter and The 2018 NW recording of the year for her 2017 album 'Love Is Everywhere.'
Her 2017 release was also accepted in the first round of Grammy Voting for the "Best Contemporary Blues Album and Best Americana Song categories and was chosen to represent the South Sound Blues Association as the entrant for the 2018 Best Self-produced CD competition at the International Blues Challenge in Memphis TN. The album made the list of Roots Radio Report top 40 Blues Rock albums of 2017.
She has performed at the Chicago Blues Festival, SXSW, juke joints in Mississippi, riverboats in California, headlined festivals, toured Europe and shared stages with Elvin Bishop, Charlie Musselwhite, Lee Oskar, and many other legends.
Her music has been described as "A Whiskey & Water Baptism that lace Blues and Rock edges." "With her feet firmly planted in roots-based music, Stacy Jones pays homage to the blues but experiments by mixing in some mild-Americana and subtle country licks. Dynamic vocals fueled by powerful lyrics." "the rolling thunder blues of Howlin' Wolf mixed with the honesty of Lucinda Williams.
SJB continues to blow fans away with their high-energy, genre-bending performances. Amazing vocals, incredible musicianship, outstanding songwriting and powerful, dynamic arrangements – it's easy to understand why Stacy and her band are captivating the crowds and gathering new fans at each event they perform.
Stacy Jones not only impresses with a vocal richness beyond her years but is also a top-notch harmonica player as well as playing keyboards and acoustic guitar.
The entertaining trio of Rick Bowen (drums), Tom Jones (bass) and Jeff Menteer (guitar) provides the foundation for a strong ensemble sound and the band's obvious joy of making music together is contagious.
Full history=======
In 2009 The Stacy Jones Band took the Seattle music scene by storm, playing over 115 gigs & festivals as well as winning the Best New Band award from The Washington State Blues Society.
The band released a limited edition CD Live at the Triple Door, in September 2009
The Stacy Jones Band's first full-length CD "Long Time Comin" was released in January 2010 and continues to receive strong airplay and is now in its second pressing. 2011 looks promising for this Northwest favorite.
May 2010 Stacy Jones is award the Best Female Vocalist award from The Washington Blues Society.
Nov 2011 the band released "No Need to Spell It Out," on Critical Sun Recordings. The 4th full-length album was Produced by Bubba Jones and recorded at Contact Create Studios-Snohomish. 2012 the album was nominated for NW recording of the year by the Washington Blues Society.
Dec 2011 Jeff Menteer released "The Nature of My Dreams," his first solo album featuring members of SJB, produced by Jeff Menteer and Tom Jones.
June 1.2012 release Live And Untapped. captured May 2011 at the Untapped Blues and Brews festival, Showcasing the strengths and depth of the whole group, the set was recorded by Jazz Stream mobile and mixed at Studio Litho in Seattle by Floyd Reitsma (Pearl Jam-Dave Mathews) and mastered by Ed Brooks at RFI.
2013 – Stacy invited to Chicago Blues festival – Women of the Blues Showcase.
2014 -Stacy Jones awarded Best Female Vocalist award, and Rick J Bowen awarded Blues Drummer award from The Washington Blues Society.
2015 – April 1st– the release of Whiskey, Wine, & Water from Stacy Jones.
Produced by Stacy Jones and Floyd Reitsma -recorded and mixed by Floyd Reitsma at Studio Litho -Seattle.
The 2015 IMEA award winner: BEST BLUES SONG.
Winner of the 2016 Washington Blues Society Best Blues award for Songwriter and Best Blues Album "Whiskey, Wine, and Water".
2016 WBS Best of the Blues Awards winner for Best NW recording / Whiskey Wine and Water, Blues Songwriter Stacy Jones and Tom Jones winning Best Blues Bass.
2017 release Love Is Everywhere
Produced by Stacy Jones and Floyd Reitsma -recorded and mixed by Floyd Reitsma at Studio Litho -Seattle
with a special guest appearance by Lee Oskar.
chosen By SSBA as the entrant for the best indie CD at the 2018 IBC in Memphis TN.
2018 Washington Blues Society "Best of the Blues Awards: Best Band, Best Female Vocalist, Paul Green Harmonica Award, Blues Bass, Blues Drummer, Blues Songwriter, Best NW Recording, Best Non-Festival Event .
The 2020, 2019 and 2018 winner Best Band -Washington Blues Society The 2018 NW recording of the year 'Love Is Everywhere.